With 10 days left before the season opener against the Ottawa Senators, things got a little more realistic for the Buffalo Sabers Monday at the KeyBank Center.
There were no two training sessions in which more than 50 players and nearly a dozen coaches were on the bench and in development. Instead, it was just one group of 28 players led by coach Don Granato and the Buffalo crew. Legitimate streak combinations and defensive pairs were shown, and Granato said then that fans should see very soon the team that kicks off the season when the Carolina Cypresses host the Carolinas here on Tuesday night and the show's schedule ends Friday in Pittsburgh.
Granato said it was great from an organizational standpoint to have so many additional prospects and coaches around training, as employees from Rochester and Cincinnati also participated. But it also closes on time to get ready for the NHL season and Monday marks a new phase of camp.
"Today was that day and it's exciting knowing the season is approaching," Granato said. "The meeting this morning was a lot different than the meetings we had earlier in training camp, and the practice, focus and intensity were also different."
How did Sabers line up in front of goalkeepers Eric Comrie, Craig Anderson and Oko-Pekka Lukonen?
• Tage Thompson was central to Jeff Skinner and Victor Olofsson in the lead, while Alex Toch, who spent much of last season on the right wing with Skinner and Thompson, was with Jack Quinn and Casey Mittelstadt.
• Dylan Cousins ​​mediated Peyton Cripps and JJ Petrka with Rasmus Asplund and Zemgus Jergensons as they switched center and wing while skiing with Kyle Okposo. The last line featured Riley Sheehan between Anders Bjork and Vinny Hinostrosa.
• The three best defensive pairs are Rasmus Dahlin with Matthias Samuelsson, Owen Bauer with Henry Jukiharjo and Jacob Bryson with Ilya Lyubushkin. Lawrence Bilott, Jeremy Davis, Kaley Clegg and Chase Briskey also remained at camp while Casey Fitzgerald did not skate on Monday while suffering a lower body injury that Granato said was a daily problem.
"We're now starting to look at, 'OK, these combinations we have here hopefully we don't want to tweak things too much at this point,'" Granato said. But we'd love to see the groups here practicing and playing games for the next few days together for the most part.
"I think our squad going into the season is well defined. I don't think there's anything too surprising or horrific. And let's face it, we have to support our guys. They've had a great deal of work. The best combination and combination in goal-winning hockey games."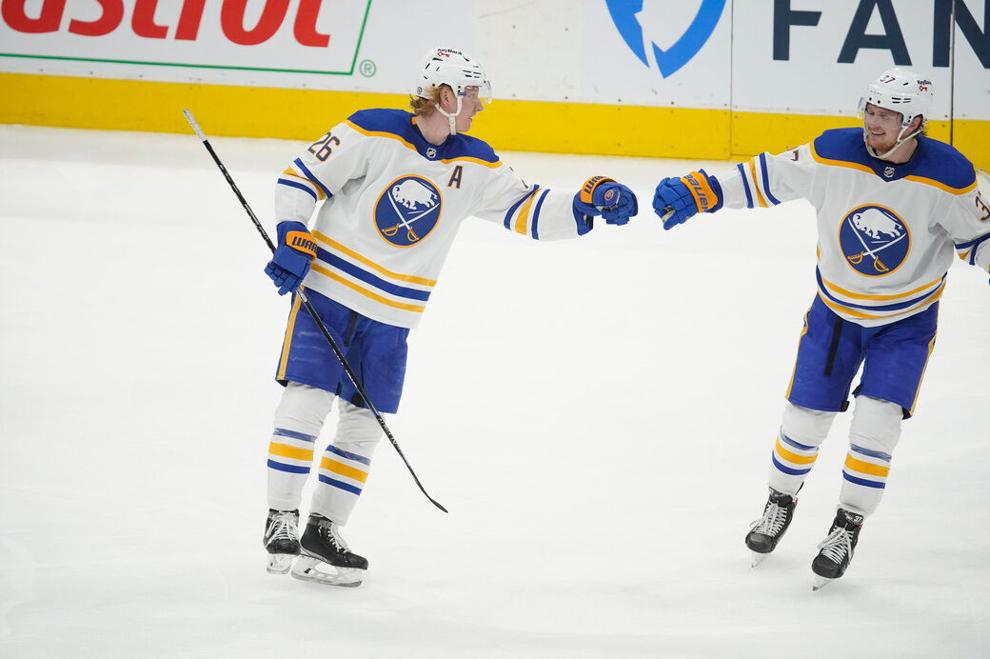 Mittelstadt and Dahlin, close friends and roommates during their time in Buffalo, have been working so hard on the RapidShot training game that they have blisters on their hands.
Touch said last week that the Buffalo strikers know they have to be flexible and that playing with multiple players through camp has been beneficial to both returning players and newcomers.
"Every player on this team has a different skill set, a different kind of play, a different style," Tosh said. "I think it doesn't really change my style of play and I don't have to change the way I play with the other players. We have a lot of players that can be put into different lines and different combinations… We have a very diverse skill set up and down in our squad and I think everyone has a lot." of chemistry with each other."
"It's impressive. It's exciting," added Krebs, at his first camp in Buffalo after taking it with Tosh from Vegas in November. "Just to get these reps practical with a big group, it's closer than we definitely think, and now we're getting ready for the week and having some fun."
Granato reiterated how he likes strikers who are flexible enough to play in midfield and wing and have at least eight players in camp. At the end of last season, they all had a mandate to improve in playoffs after Wills finished 32nd (last overall) in the NHL at 46% with numbers that were consistently poor across the board: The club finished 31st in win percentage based on equal strength. , on strength and in the defensive area.
And remember, Cypress never re-signed captain Cody Aiken (56.1%). No one on the current roster has won more matches than last season. The Girgensons were in the lead with 49.8%.
"It's an area that we really need to improve," Granato said. "If you want more ice time and more chances, win more matches because we will put you in place. Overtime counters, defensive zone fights, and even strength fights. These are the situations where winning a draw is a huge advantage."
"I think she always works on it every single day," Krebs said. "This group loves hockey and we're really excited to get better every day. As you'll see throughout the year, we're going to be better and better in those areas."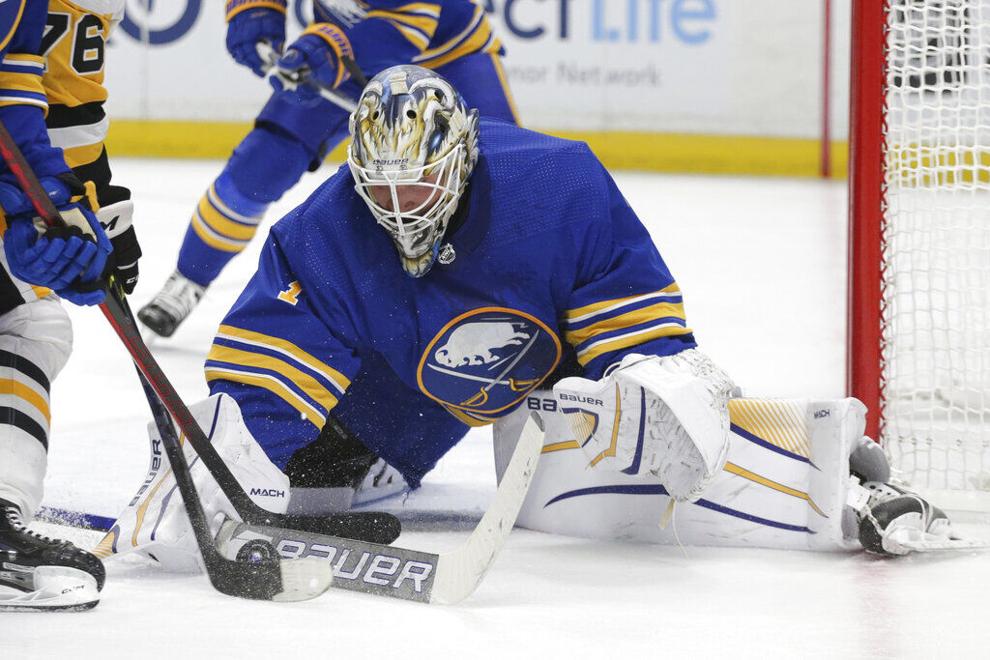 Ukko-Pekka Luukkonen's strong training camp continued on Saturday as the 23-year-old saved 32 saves on 33 shots in the Cypresses' 3-1 win over the Pittsburgh Penguins at KeyBank Center.
Seppers goalkeeper Malcolm Suban cleared concessions on Monday and was appointed to Rochester, where he is expected to team up with Lokonen as captain for the Americas. Ottawa could have claimed it, but the Sense instead claimed Seattle's Magnus Helberg after learning that rookie Cam Talbot would be out five to seven weeks with an upper body injury.
The Sabers revealed their new dog, an 8-month-old golden retriever named Nikki who greeted the players and coaches as they broke off the ice and scurried around the locker room. General Manager Kevyn Adams signed an honorary contract for the dog and asked her to get rid of him to no avail, as the animal is still in the training phase.
Nikki is training to be a service dog as part of the WNY Heroes Pawsitive for Heroes program. Nikki was named in honor of Nicholas Warden, a US Army veteran from Debbie who was killed in Syria in 2017. Last year's team dog, Rick, was named in honor of broadcaster Rick Jennert and is currently in the service of a US Coast Guard veteran.